Blog
Wall art images on sale – Exclusive offers of the "Fine Art of Bondage" photography project with stunning canvas prints for your home, office or club. Colorful fine art prints available in europe and USA. Fast delivery through amazon warehouses!
read more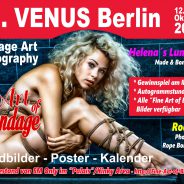 Der Knaller: Fine Art of Bondage auf der Venus Messe in Berlin, Europas größte Erotikmesse – Wir haben uns für Euch was einfallen lassen! Anschauen und vorbei kommen – Stand: SM-Only/Kinky Area
read more
Vanessa Louis, german tattoo and fitness model – images and art prints of this stunning model for the Fine Art of Bondage photography project with links to her sedcard & contact.
read more
12 poster set of the Fine Art of Bondage porject – available worldwide. Stunning wall art to impress your visitors.
read more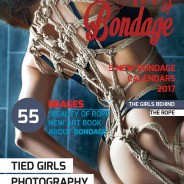 The first Issue of the Fine Art of Bondage Magazine – Stunning images and all about the bondage art books, wall calendars 2017 and a lot of background information of the rope project…
read more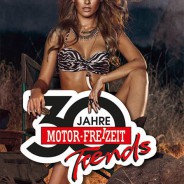 Wow – 6 complete pages in the austrian magazine "MOTOR Freiezit & Trends" for the Fine Art of Bondage project. 11 big sized images with stunning knots and beautiful girls in the mag. Take a look at the video in this article.
read more
Some of my bondage images free to use and share! Whish your friends a happy, thrilling new year 2015 with these fine art of bondage images. Free download und usage – just give credit to the homepage or one of my social media accounts.. Have fun! Fun with ropes..
read more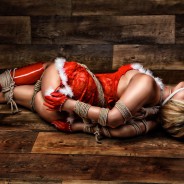 The Christmas gallery of the Fine Art of Bondage project – a beautiful blonde model tied in hard ropes and high end retouching of the pictures.
read more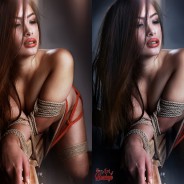 best color tonal for bondage art photography – an example of a fine art bdsm/bondage image with a beautiful asian model in 2 color tonals. Choose what´s best..
read more
The idea behind the book "Fine Art of Bondage" and how I decided to do a fine art bondage photography project: Totally impressed of some randomly found art images about Bondage, I searched and found more of this. The decision to launch a bondage & shibari fine art project did not take a long time and the collection of new ideas, combining other image examples with my own experience resultet in a long list of cool image ideas for a fine art book. Right now I have a lot of photo session with models, tying of them get´s more easy the often I do it and we play with ropes to get into the next level of bondage photography. Visit this site or follow one of the social media accounts of "Fine Art of Bondage". I´ll keep you up to date what´s happening on the long way till the book is available in all book stores online and offline…
If you have any questions, ideas or something to say – don´t hestitate to write it inthe comments or send me an email/PN.
read more