Fine Art of Bondage – the Book
photo books – "Fine Art of Bondage"
Out now – "the "Beauty of Rope" collection with 2 books!
"Fine Art of Bondage" is about fine art photography of Bondage, Shibari/Kinbaku (japanese Bondage) combined with additional materials like feathers, metal rings and much more. A lot of ideas with knots, beautiful models tied with ropes, creative lightning and posings of the girls. High-end retouching of the pictures should show you the world of art and bondage. A book with awesome hot photography that everybody who likes nice girls & rope will love…
Thanks a lot to all the models I already had in front of the camera for this project. Sometimes it was a torture for them to be bound in extreme posings – but it was worth it for the pictures we took 🙂
Wall Art – Fine Art of Bondage – Collection (eBook)
The world of erotic fine art in one catlog with over 100 big sized images. Rope bondage art for your smartphone, tablet, desktop in the ePub format. The most used filetype which almost every ebook reader can handle with.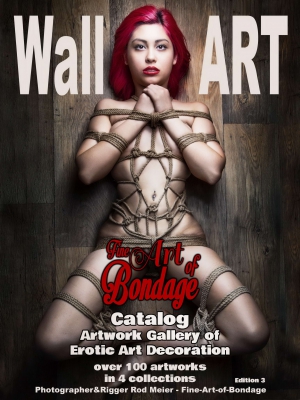 Wall Art – Fine Art of Bondage – Collection (eBook)