Blog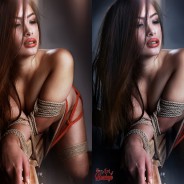 best color tonal for bondage art photography – an example of a fine art bdsm/bondage image with a beautiful asian model in 2 color tonals. Choose what´s best..
read more
The idea behind the book "Fine Art of Bondage" and how I decided to do a fine art bondage photography project: Totally impressed of some randomly found art images about Bondage, I searched and found more of this. The decision to launch a bondage & shibari fine art project did not take a long time and the collection of new ideas, combining other image examples with my own experience resultet in a long list of cool image ideas for a fine art book. Right now I have a lot of photo session with models, tying of them get´s more easy the often I do it and we play with ropes to get into the next level of bondage photography. Visit this site or follow one of the social media accounts of "Fine Art of Bondage". I´ll keep you up to date what´s happening on the long way till the book is available in all book stores online and offline…
If you have any questions, ideas or something to say – don´t hestitate to write it inthe comments or send me an email/PN.
read more